Main content starts here, tab to start navigating
private dining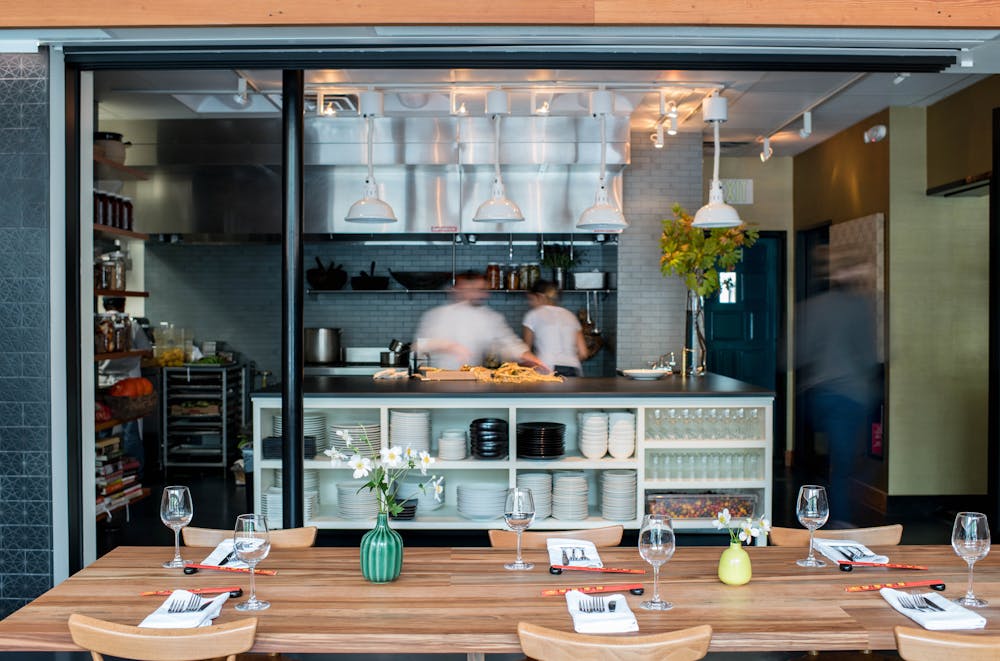 We are thrilled to invite you to our private dining room and community kitchen next door to our LANTERN restaurant in downtown Chapel Hill. Our private dining space grew out of Kitchen Patrol and is a reflection of what drew me to cooking in the first place: the opportunity to gather people together, celebrate, and share stories around the table.
This cozy open-kitchen dining room is where we host visiting friends & chefs, offer cooking classes and get-togethers. The space is available for private events for any occasion, from cocktail parties, to movie screenings, or family reunions. Lantern Table can accommodate up to 45 guests for seated dinner, or 60 for passed hors d'oeuvres. We are equipped with state of the art presentation tools and flexibility to provide total privacy, an interactive evening of cooking from the open kitchen or anything in between. Our connected garden accommodates up to 30 for seated dinner and 40 for cocktails and snacks. We look forward to welcoming you!
***
While we are still booking for select future dates in 2021, we have currently suspended all indoor dining and private events. Since March 2020, our work has focused on cooking weekly meals for Durham, Chapel Hill-Carrboro and Orange County school children and their families in partnership with Eat NC, as well as a series of take-out and outdoor pop ups.
Lantern and Lantern Table will reopen as soon as we can do so safely and in accordance with NC guidelines. When we reopen, our private dining capacity and pricing will be the same as what is listed in the options below. Along with Lantern classics, we will also be adding a broader choice of seasonal menus. We will of course still be creating custom menus for all events, guided by your vision and what our friends are harvesting, catching and ranching.
For all inquiries, please fill out the form below and we'll be in touch soon.
View Private Dining Options